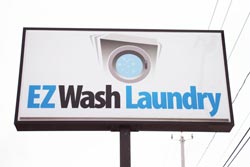 EZ Wash Laundry is the premier laundromat for the Western New York area. With three locations in North Buffalo, Cheektowaga and Orchard Park NY, EZ Wash Laundry offers a wide variety of services for their customers.

All locations are opened 24 hours a day with attendents on duty at specific times of the day and Night. There are a large selection of machines ranging from 20 lb to 80 lb capacities. Most of EZ Wash laundry's machines accept credit cards and all accept coins.
The Buffalo location offers Wash 'n' Fold service as well as Drycleaning. Wash "n" Fold service will be available at the Cheektowaga and Orchard Park locations in the near future. The Orchard Park location offers an Automatic and Self Serve Car Wash with vacumns. They also offer a Dog Wash for our canine friends.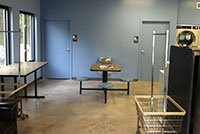 The premises and restrooms of all locations are kept very neat and are cleaned on a daily basis. All locations offer free Wi Fi, televisions and an internet cafe atmosphere.
When looking for the best services and machines for your laundry needs in the Western New York area, EZ Wash Laundry should be your first and only choice that you make.